Josh Brolin, Jeffrey Wright arrested in Downtown Shreveport
Published: Jul. 13, 2008 at 7:17 PM CDT
|
Updated: Jul. 13, 2008 at 7:19 PM CDT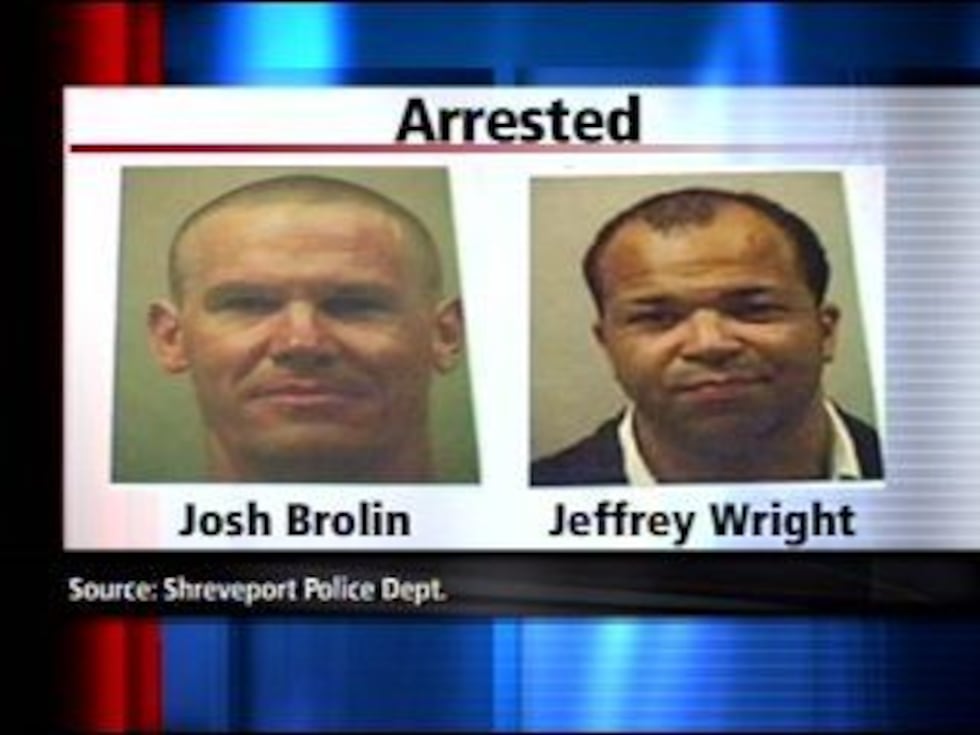 SHREVEPORT, LA (KSLA) - Shreveport Police have arrested two actors and several crew members involved with the latest movie in 'Hollywood South.'
Officers handcuffed Josh Brolin -- the star of Oliver Stone's film "W" -- early this morning outside a downtown bar.
Workers at the Stray Cat Bar tell KSLA News 12 they asked Brolin, his co-star Jeffrey Wright, and about five other crew members to leave the bar twice.
When they didn't leave, they say bartenders called downtown police who responded just after two in the morning.
Police reports list officers arresting a 29-year-old Eric Felland for remaining in the bar, resisting arrest, and public drunkenness.  Officers say five others who were hanging out with Felland, including both 40-year-old Brolin and 42-year-old Wright, interfered with the arrest.   Police charged them with just that -- interfering with an officer.
A man who works the graveyard shift at a nearby downtown business says he saw most of the incident, where he claims there were at least four police cars and several bicycle police on scene.
"I've seen my share of disturbances and for the most part the cops just send them on their way, but that was the first time I've seen that many people at once get escorted into cars, I mean I think it was getting to the point where the cops were checking with each other to see who had room to put [people] in," said downtown worker Anthony Thompson.
Crew members reacted to the arrests on their way into the movie's wrap party in Downtown Shreveport.
"I'm a little surprised but then again I'm not surprised.  It happens every time they have a wrap party or when the movie wraps," said set worker Kevin Day.
"It's hard to react too much because they are people I know and like," added a set worker named 'Darrell.'
Eyewitness Anthony Thompson added more about the incident:
"I even remember one guy -- he was being put in the cop car, him yelling, 'I want to talk to my lawyer right now!'  He was real adamant about that."
He went on to describe the scene further:

"A couple of fellows were walking around and when they got to the door in front of where I work, I heard one of the fellows look at the other and say 'If you see any cameras out there, be sure to let me know,'" said Thompson.
KSLA News 12 contacted a woman who said she was an associate producer with the film "W."  The woman said she would have Brolin's publicist contact KSLA, however, we have not yet heard back from the publicist.
To avoid any appearance of conflict of interest, it is important to note that KSLA News 12 Weekend Anchor/Reporter Jeff Ferrell is a cast member of Oliver Stone's movie, "W," in which he plays the White House Media Director.
Click here to visit the website of WMC-TV sister station KSLA.