Fellowship Church hires crisis management team following Rick Trotter's arrest
Published: Aug. 23, 2016 at 8:25 PM CDT
|
Updated: Aug. 24, 2016 at 12:25 AM CDT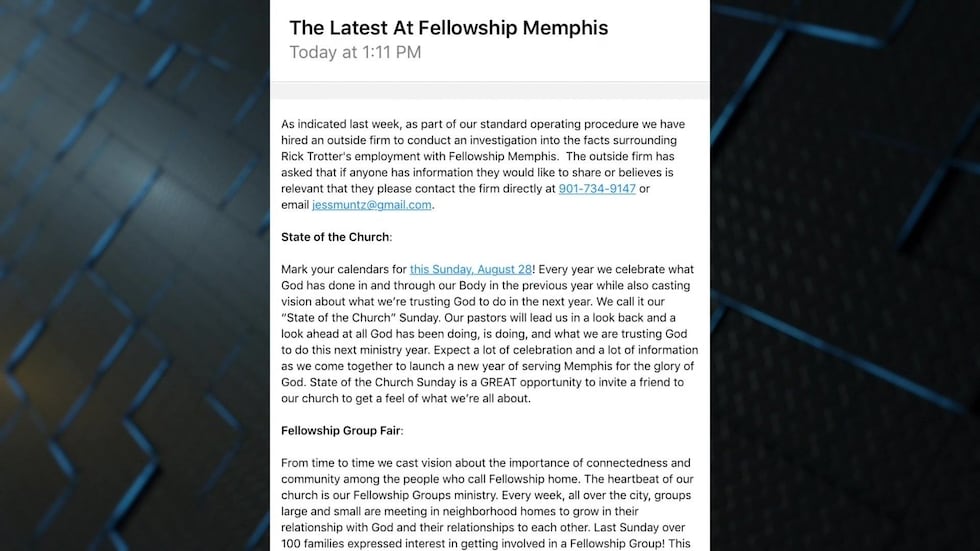 MEMPHIS, TN (WMC) - A Memphis church hired a crisis management team to do an internal investigation after a former employee's arrest.
Rick Trotter, former voice of the Memphis Grizzlies, was arrested for filming "upskirt" videos of women at Downtown Church and Fellowship Memphis.
Members at Fellowship Church, where Trotter worked at the church from 2005-2010, said it looks more like the church is doing damage control.
"Members of the church body should be able to trust their leaders," said a church member, who asked to remain anonymous. "Fellowship had an independent, outside firm to investigation any, all facts surrounding this matter ... So, when I heard that, I thought, 'OK, they're looking into it.'"
Members said they received an email containing more information about the firm handling the investigation; one member said something doesn't seem quite right.
"If anyone has information they would like to share, they can, please, contact the firm directly," the member explained.
She said there is no mention in the email about victims going to the police.
"The difference in investigating a problem to see what went wrong from a legal perspective and then them wanting to do damage control," she added.
Representatives with the firm confirm they are looking into the Rick Trotter investigation, but said it is not a public relations firm, but instead, a law firm that handles public strategy. Their website, though, displays services like reputation protection and crisis management.
Amy Smith, a volunteer leader with a national group called Survivors Network of Those Abused by Priests, was contacted by members of the church.
"It feels like a use of intimidation and, also, a loss of trust," Smith said.
More focus should be on building the case against Trotter, not building a better image for the church, Smith added.
"I've seen this play out before," she said. "What happens when the church is prioritizing its reputation and brand management over victims."
Trotter's next court appearance is set for September 20.
Former Grizzlies announcer arrested for filming upskirt videos
Victim describes 'betrayal' after Rick Trotter's arrest
Ex-Grizzlies announcer previously fired for sexually deviant behavior
Copyright 2016 WMC Action News 5. All rights reserved.