Millions of spiders infest Mid-South neighborhood
Published: Nov. 21, 2015 at 1:57 AM CST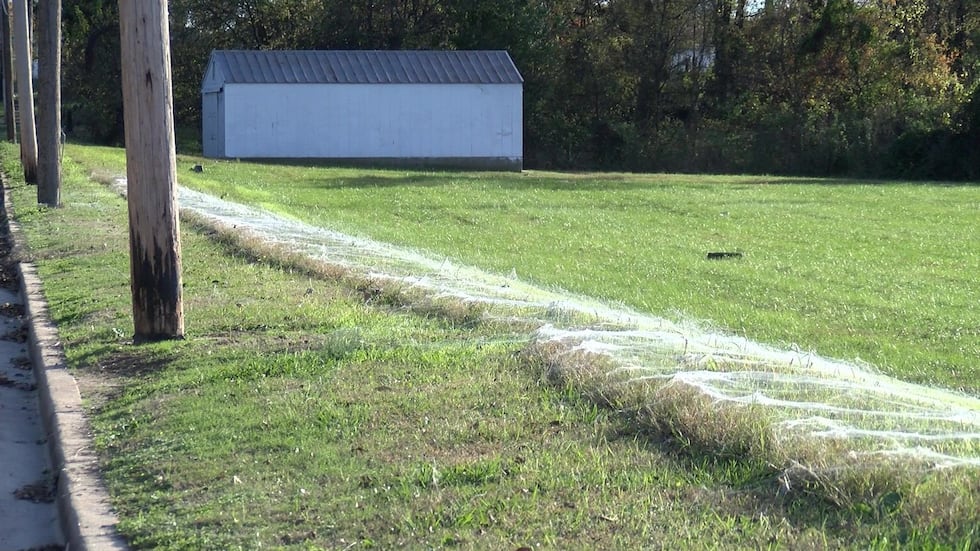 MEMPHIS, TN (WMC) - Residents on May Street and Chelsea Avenue said their neighborhood has been infested with spiders. The eight-legged problem is causing headaches for the homeowners.
Photos of the nearly half-mile long spider web show the extent of habitation by the spiders. The web looks like frost, or maybe morning dew, covering the grass across the road from several homes.
Efforts to get rid of the spiders by neighbors Frances Ward, Debra Lewis and Ida Morris are slow-moving.
"I've seen about 20 on my porch just in the last day," Morris said.
They said they want the city to step in and help get rid of them.
"Clean this area up and spray for these spiders and make it safe. There are kids running around. A spider could bite the kids or anything."
Lewis said it makes living in their homes difficult.
"You can't even sit in her house because they're all on the wall, on the door. We been killing spiders for about an hour now," Lewis said.
Click here to view more photos 
However, experts said the spiders' presence is not exactly a bad thing and neighbors should not be too concerned.
According to Memphis Zoo curator Steve Reichling, the webs are the result of many spiders that have gone unnoticed.
"It's a mass dispersal of the millions of tiny spiders that have always been in that field, unnoticed till now. It could be juveniles - millions - in a big emergence event, or adults of a tiny species - probably a sheet web spider - leaving for some reason possibly knowable only to them," Reichling said. "In fields and meadows, there are often literally millions of spiders doing their thing, unseen and unappreciated by us. I would not want to live in a world where such things were no longer possible. The presence of these spiders tells us that all is well with nature at that location."
But, for those dealing with them on a daily basis, they are anything but a good thing.
"I've never seen anything like this. It's like a horror movie. Never seen nothing like this before," Ward said.
"They're in the air, flying everywhere. They all on the house, on the side of the windows."
While they wait for help, they continue to kill one spider at a time.
Copyright 2015 WMC Action News 5. All rights reserved.