Reporter, FOX Carolina News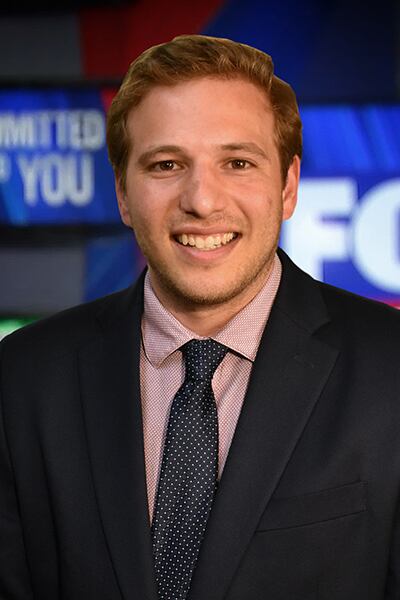 Zach Prelutsky is a multimedia journalist for FOX Carolina. He joined the FOX Carolina News team in December 2020.
Zach was born and raised in beautiful St. Louis, Missouri. He made stops in La Crosse and Eau Claire, Wisconsin, working as an MMJ at WEAU-TV for three years before moving to Greenville
Zach is a proud graduate of the University of Illinois Urbana-Champaign with a degree in Broadcast Journalism and is a rabid Fighting Illini fan in all sports (even football).
On his time off, Zach enjoys cooking, playing golf, and playing video games with his friends.
He is a fan of most types of music, depending on the time of year.
One of his favorite movies is the Dark Knight.
For more than a decade, Zach played the stand-up bass and was part of an award-winning orchestra during his high school years.
During his free time, his hobbies range from watching his favorite St. Louis sports teams play to enjoying the beautiful weather and amenities the Upstate has.
Zach has a very cute dog named Kiva back at home in St. Louis with his parents.
There have been so many memorable stories Zach has covered, but the ones that mean the most to him are ones that make a difference in the lives of the viewers and the people whose stories he tells.
Updated: Jun. 19, 2023 at 11:56 AM CDT
|
By
Zach Prelutsky
and
Amanda Alvarado
A teen was arrested after a shooting at a Juneteenth festival in North Carolina.
Updated: May. 28, 2023 at 3:39 PM CDT
|
By
Zach Prelutsky
and
Andrew McMunn
Officials said 74-year-old Jimmy "Randy" Grant died Friday night after he was struck by a vehicle.
Updated: Jun. 22, 2022 at 3:36 PM CDT
|
By
Amanda Shaw
,
Zach Prelutsky
and
Jordan Gartner
Investigators from multiple agencies released further details about a serial killer who preyed on women in North and South Carolina.