Memphis police chief discusses non-stop criminal activity
Published: Nov. 15, 2023 at 2:19 PM CST
MEMPHIS, Tenn. (WMC) - Memphis Police Chief Cerelyn J. Davis acknowledged the city has suffered mightily in recent times from a nonstop barrage of criminal activity.
"Unfortunately, our city has been under siege over the last several months," Chief Davis told the Memphis Rotary Club meeting at the Bluff Restaurant on the Highland Strip near the University of Memphis. "We average about 35 to 40 cars stolen a day. This year we've had upwards of 13,000 vehicles stolen," Davis told Rotarians.
Davis says the auto theft epidemic is a major driver in crime statistics that ranks Memphis higher in surveys that put the city in an unflattering light and create a major inconvenience for families just trying to make a living.
The Chief showed a data-driven map that featured hundreds of blue dots where vehicles were stolen and red dots where stolen cars were recovered.
"It just looks like measles," Davis noted. The Chief and her top brass created an Auto Theft Task Force that reported Hyundais and Kias as the most stolen vehicles earlier this year.
"This trend has shifted in the last couple months. We have passed out steering wheel locks to people who have Hyundais and Kias and guess what? They're no longer the highest stolen vehicle. Now it's Nissan," the Chief reported.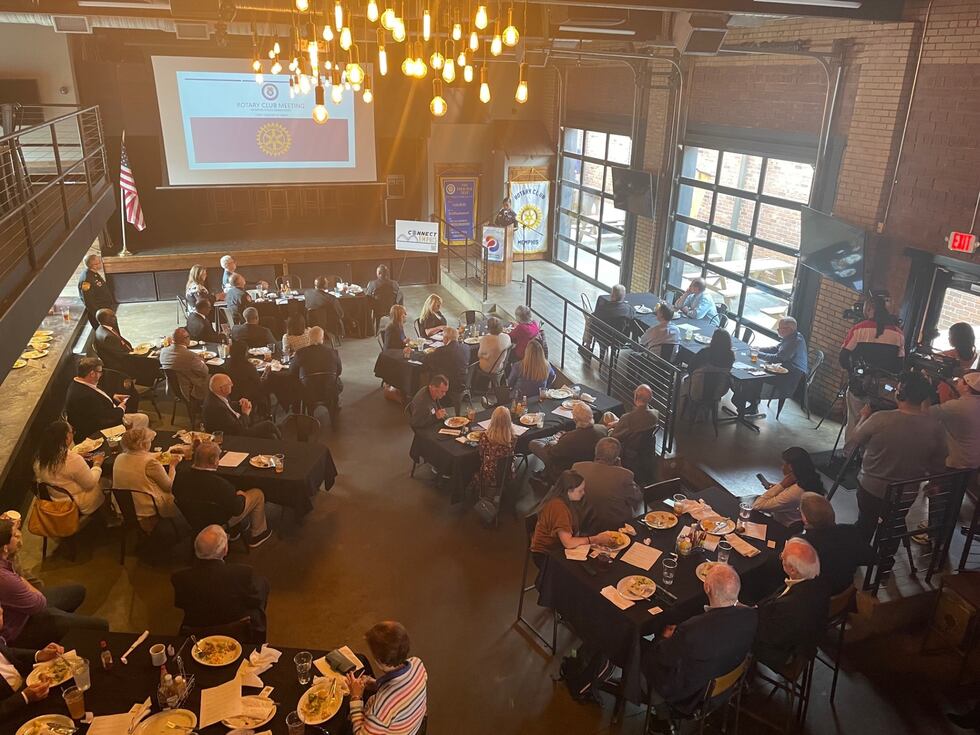 When Davis asked Rotarians, "Who's got a Nissan?" a laughing Rotarian said, "I'm parked by one of your police cars."
"Okay, you might be safe then," Chief Davis said but urged Nissan owners to protect their vehicles.
"No one wants to go back to something as antiquated as steering column locks, but they work," Davis said. "We have to encourage citizens to use them until we can get our arms wrapped around this issue of stolen vehicles in our city," the Chief encouraged.
"How do we suppress crime and do it in a way that is sustainable?" That's the question Davis and her team say they try to tackle daily with the current city homicide rate adding an average of one a day, numerous overnight business break-ins, smash-and-grab crimes and the massive auto theft crisis.
The MPD reported 29,000 arrests from January 1 to October 31, 2023, with more than 64,000 total charges levied against those taken into custody.
"There were 21,332 unique individuals arrested, 4,667 of these individuals were arrested more than one time in 2023," Davis said. "As I talk on a regular basis on recidivism, that's an issue that at some point not just the police department but all the entities that are working together in the city, we need to get our arms around," the Chief observed.
In a closer partnership with federal partners at West Tennessee's US Attorney's Office, the FBI and the ATF, Davis says the MPD is working to suppress crime in countless ways.
The MPD created its own Fugitive Unit to try to capture criminals because Davis says the Shelby County Sheriff's Department's Fugitive Squad simply does not have enough deputies to do the job. Davis says the MPD reestablished the Traffic Enforcement Bureau and the Chief says due to their visibility, the number of interstate shootings has gone down.
The Chief says her team is constantly talking to the Tennessee Highway Patrol which she says should be the law enforcement on duty on Memphis Interstates and state routes.
"We don't ever know when they're coming," Davis said of the THP. "But they do come from time to time. We want to see our THP a little more regularly," The Chief said. Davis says MPD has added more gun crime investigators.
"There are more guns on the streets than we've seen in the history of the Memphis Police Department," Davis said. "Unfortunately, relaxing gun laws has had an unintended effect. Bar brawls and family fights are turning into gun battles," the Chief said.
Davis said her department increased its motorcycle squad by ten and won new funding to rehire fifty retired officers who use their lifetime of career experience in their areas of expertise.
In terms of what citizens can do to fight crime, Chief Davis encouraged audience members with Ring doorbell cameras at their homes to register with the MPD at www.Connect2Memphis.org.
Davis called the cameras a "force multiplier" for the MPD.
"If I don't have an officer on every corner," Davis told Rotarians," I may have two officers in a real-time crime center that can watch at least 30 corners."
The MPD rolled out a new Connect to Memphis program on July 1. It does not give the MPD permission to look at the video from your doorbell camera at any time but creates the opportunity for police to request to view doorbell video if a crime occurs near the homes of registered Ring doorbell owners.
"Right now, we have close to 4,000 registered cameras in our system that are integrated with the Memphis Police Department," Davis said. The city's top crime fighter says officers will always ask permission to see the video of the Ring camera owners and cannot access the video without the owner's permission.
Click here to sign up for our newsletter!
Click here to report a spelling or grammar error. Please include the headline.
Copyright 2023 WMC. All rights reserved.