Traveling or staying home for Thanksgiving? This is how weather could impact your plans...
Published: Nov. 14, 2023 at 3:07 PM CST
|
Updated: Nov. 18, 2023 at 10:38 PM CST
MEMPHIS, Tenn. (WMC) - Whether you're headed out of the area for the Thanksgiving holiday or staying in the comfort of your own home, this is your first alert to weather having an impact on your plans going into the week of Thanksgiving. We're watching a system pushing through early next week that will bring needed rainfall and also cooler conditions by Thanksgiving Day.
The days leading up to Thanksgiving
A low pressure system will be pushing through the central portion of the Unites States the Monday and Tuesday prior to Thanksgiving. This will impact those traveling before the holiday within the Central and Southern half of the country but first let's focus on those staying within the Mid-South.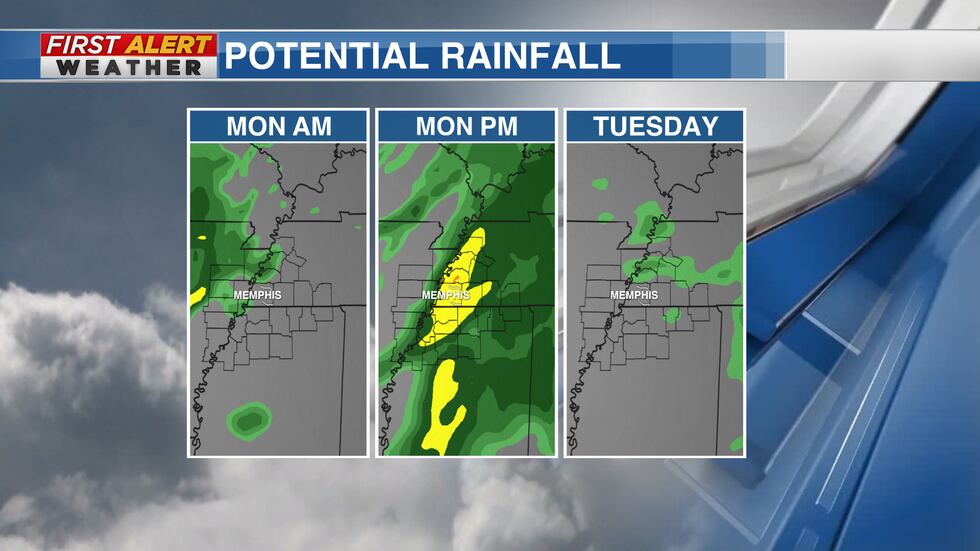 The prime timing for rainfall in the Mid-South is going to be on the back half of Monday. Although we will start to see showers move into the area as early as Sunday afternoon and they could stick around as late as Tuesday afternoon. Not only could we see a good amount of rainfall but also a few embedded stronger storms in the mix as well going into the evening of Monday. The greater threat for severe storms is currently sitting to our South but we could still see a few storms on the stronger side carrying gusty winds and heavy rainfall in areas mainly south of I-40.
The good news is if you have plans after Tuesday conditions look drier and cooler going into Thanksgiving Day. We will continue to monitor and update this Weather Headline as we get closer to time.
If you're traveling...
For those traveling this system could impact your plans depending on where and when you plan to hit the road.
This is one model we are looking at played out through Wednesday. However, it is one run of one model a few days out so take it with a grain of salt. But, do take note of the overall trends. Here's the breakdown:
Sunday: The low pressure system becomes more prevalent bringing showers from the Great Plains into central Texas through the day. As this system pushes through this area it could bring heavy rain and gusty winds into this region. A few storms could be on the stronger side with a hail threat confined for portions of central Oklahoma.
Monday: Rainfall looks to impact the Midwest to the Gulf Coast from Missouri down to Texas Sunday night through the day on Monday. By Monday morning rain and even a thunderstorm or two will be ongoing reaching from the Missouri bootheel down to the Louisiana coast. The greater risk for stronger storms will sit South of the Mid-South in Louisiana stretching into central Mississippi into the back half of the day. AR-LA-TX into Central Mississippi could see hail, gusty winds and localized heavy rainfall as this system pushes through into Monday evening.
Tuesday: Going into Tuesday afternoon the system shifts to impact states east of the Mid-South, states like Kentucky and Ohio but also on the eastern coast, from New York to Georgia. Heavy rainfall will accompany this system as it moves onto the East coast.
Wednesday: This system will then move off the Unites States coast but eastern coastal cities could still see showers through the day.
The temperature trend
Cooler air will usher in by mid-week. Temperatures should be just below average for Thanksgiving here in the Mid-South into the 50s for high temperatures. Average high temperatures on Thanksgiving Day are around 60 degrees.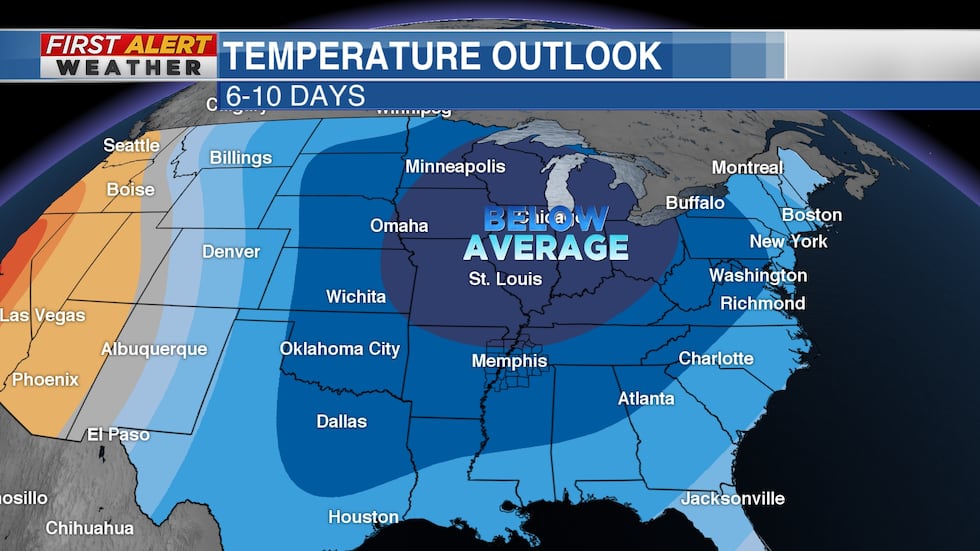 As previously stated we will continue to update this Weather Headline as changes arise and updated runs are put out.
Keep checking back here for your latest First Alert forecast to Thanksgiving week.
Maggye McCallie – First Alert Meteorologist
FACEBOOK: Meteorologist Maggye McCallie
TWITTER: @MaggyeJoWX
Click here to sign up for our newsletter!
Click here to report a spelling or grammar error. Please include the headline.
Copyright 2023 WMC. All rights reserved.