Tennessee lawmakers discuss possibly rejecting $1B in federal education funding
Published: Nov. 7, 2023 at 11:07 PM CST
MEMPHIS, Tenn. (WMC) - Tuesday marked day two of lawmakers working to find how federal funding impacts classrooms in Tennessee.
This comes after Tennessee House Speaker Cameron Sexton and Lieutenant Governor Randy McNally created a group to look into the feasibility of the state rejecting those funds.
A total of over $1 billion could be rejected if the Joint Working Group on Federal Education finds it feasible for the state to replace the funding.
Interim superintendent of Memphis-Shelby County Schools, Toni Williams, spoke with the group Tuesday and shared why those federal funds are necessary for the district's 110,000 students.
The group also heard testimonies from other school district leaders from across the state.
"Federal funding plays a role that provides supplemental services that address specific needs of those students," said Williams.
She explained to the group that Memphis Shelby County Schools receives $274 million in federal funds. Williams said that is around 18 to 20%of the district's annual operating budget.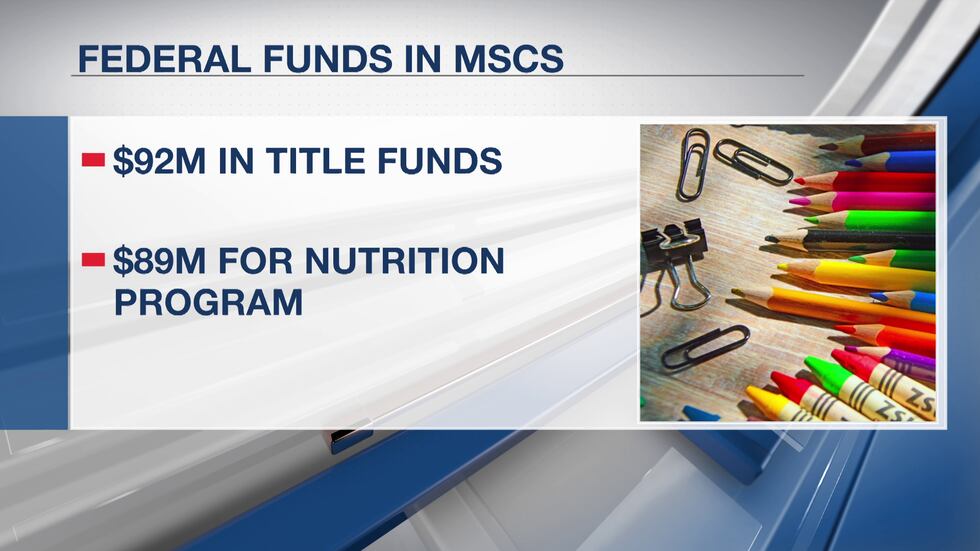 The Office of Research and Education Accountability shared on Monday the five largest areas where federal funds go in local districts. Those areas are: TITLE I, IDEA, Child Nutrition, TITLE II, and Perkins V.
Williams said MSCS receives $92 million in TITLE funds, which supports students who live in high-poverty areas.
She also said the district receives $89 million in federal funds for the nutrition program which for many students is their only food source.
"For example, we have food that we receive on a weekly," she said. "Some of these students wouldn't get an opportunity for food if it wasn't for our food nutrition program."
The Chairman of the group, Senator Jon Lundberg, reiterated the group would not cut funds but learn how districts could operate without federal dollars and the restrictions that come with the funds.
But State Senator Raumesh Akbari of Memphis questioned the panel about whether federal fund restrictions have caused any issues.
"We keep hearing there are strings attached to this federal funding. It is a burden to our local school districts, it's a burden on our state government. What strings have you found attached to these funds that have made it more difficult for your school districts to utilize them? If any," she asked.
The panel was quiet and did not answer. She took the silence as their answer.
Akbari added that the state should use its funds to help fill the gap instead of replacing federal funds.
"So, on a state level, if there is any possibility where we have the financial situation to turn down $2 billion in federal funding and have to make that up in state funds," she said. "Surely if we have that level of wealth or excess or surplus that we could actually use those funds to make a difference in those school buildings."
Williams added that she hopes the state creates a sustainability plan if they choose to reject these funds, because the change could impact some of the most vulnerable students in the district.
Wednesday the group is scheduled to hear from the United States Department of Education.
Click here to sign up for our newsletter!
Click here to report a spelling or grammar error. Please include the headline.
Copyright 2023 WMC. All rights reserved.