Why wintry weather can still happen despite warm swings in temperatures
Updated: Nov. 8, 2023 at 4:53 PM CST
MEMPHIS, Tenn. (WMC) -This 2022 winter season has consisted of a few brushes with snow and an ice storm. Last year, we had already had a major snow storm at this point. Now are we are starting to see more warmer swings in temperatures which is leading many to believe that we are done with wintry weather. With more days above average and storms starting to fire up more often, you may be wondering, can it still happen? Can we get a school-closing snow? Let's take a look at climatology and why we can't count out the chance of snow still happening in the Mid-South.
On average Memphis gets about 3 inches of snow per year and so far we have had 1.7″ of snow in January of 2022.
Let's talk temperatures, the earliest last spring freeze we have ever had in Memphis was on February 12, 1878. There is no worries there, as temperatures have definitely been swinging from warm to freezing. On average the last spring freeze is generally around March 19th but don't get your hopes up just yet. The latest freeze we ever had was on April 25, 1910. Based solely off temperatures and climatology, we still have time plus we don't have to be right at freezing to get snow but this gives you a good idea of the time frame of how long cold air can last across the Mid-South.
Looking back at climatology, the last measurable snowfall on record is March 29, 1991 and on that day we picked up an inch. Our last trace of snow is even later than that and it was on April 25, 1910.
While there is no real cold air coming down the pipe, temperatures will continue to fluctuate. The precipitation chances are expected to be above normal so that could work in our favor.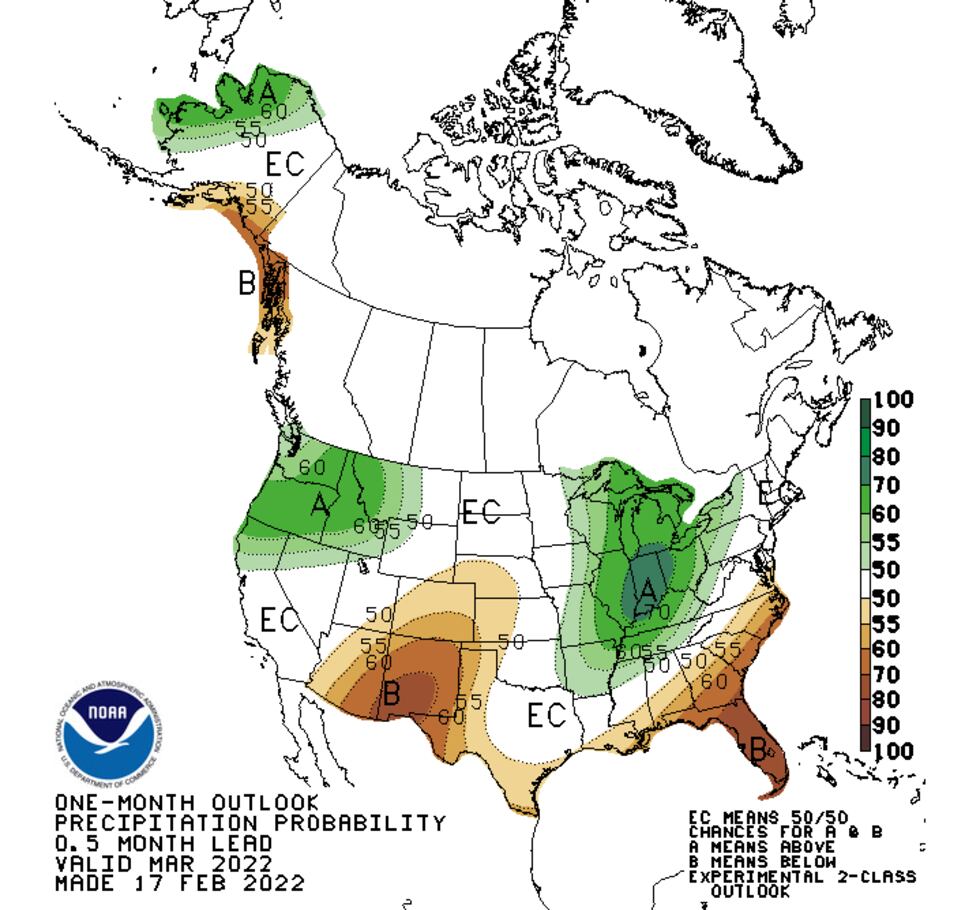 Lets take a look back at some of the biggest snows in Memphis History...
1. 18 inches, March 17, 1892
2. 17.3 inches, March 21-23, 1968
3. 14.3 inches, Dec. 22, 1963
4. 11.8 inches, Jan. 16, 1948
5. 9.6 inches, Jan. 7, 1884
6. 9.6 inches, Feb. 3, 1886
7. 9 inches, March 7, 1875
8. 8.5 inches, Jan. 4, 1878
9. 8.5 inches, Dec. 7-8, 1917
10. 8.1 inches, Jan. 3, 1985
Some of the more recent snowfall in Memphis...
4.7 February 17, 2021
5 February 06, 2020
0.2 January 19, 2019
0.5 January 16, 2018
2.0 January 06, 2017
0.3 January 22, 2016
3.1 March 05, 2015
0.5 March 03, 2014
trace December 30, 2013
0.9 December 26, 2012
3.1 February 09, 2011
5.0 February 08, 2010
The thing to note when it comes to wintry weather is that it can happen in March. This means we still have some time before we can say that the wintry weather is complete for the 2022 winter season. Some want to call the winter season over based on when spring arrives which is March 20th but check out the #2 storm above.
Most Notable Ice Storms...
Ice Storm Feb 10, 1994 – 250,000 customers lost power

Ice Storm Feb 7, 2022 – so far…272,000 customers lost power

May 28th, 2017 Storm (the one that toppled the Tom Lee obelisk) – 153,000 customers lost power
Copyright 2022 WMC. All rights reserved.
Click here to sign up for our newsletter!
Click here to report a spelling or grammar error. Please include the headline.