Conservative talk show host claims to release Covenant School shooter's writings
David Raybin, attorney for Covenant School shooter's family, said he could not confirm the legitimacy of the writings.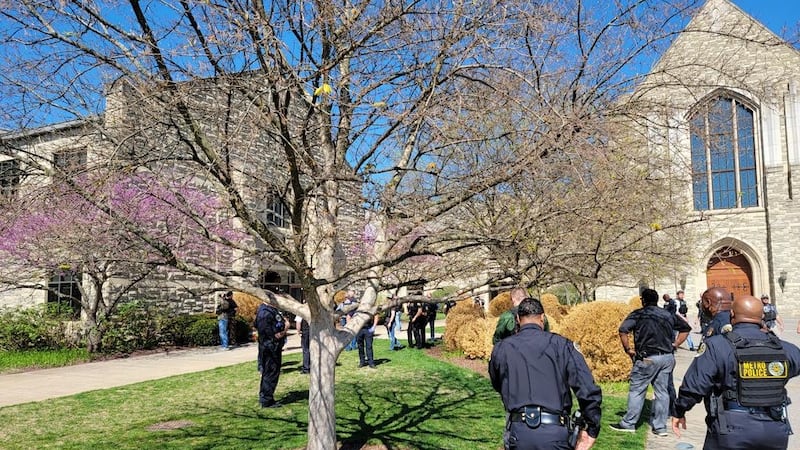 Published: Nov. 6, 2023 at 10:07 AM CST
NASHVILLE, Tenn. (WMSV) – An investigation is underway after a conservative political commentator claimed Monday he has released documents related to The Covenant School shooting in Nashville.
Steven Crowder, host of "Louder with Crowder," released three photos of writings in notebooks. Crowder claims they are images of the shooter's writings.
WSMV4 is working to confirm the legitimacy of the images. Metro Nashville Police Department officials say they are aware of the tweets and are receiving phone calls about them but would not confirm the legitimacy of them. Nashville Mayor Freddie O'Connell said Monday afternoon the city's legal department is investigating the alleged leak.
"I have directed Wally Dietz, Metro's Law Director, to initiate an investigation into how these images could have been released," O'Connell said. "That investigation may involve local, state, and federal authorities. I am deeply concerned with the safety, security, and well-being of the Covenant families and all Nashvillians who are grieving."
Dietz released a statement after Mayor O'Connell's request, claiming the department has limited information regarding the document leak.
"I cannot confirm or deny the authenticity of the documents due to the existing lawsuit," Dietz said. " At the request of the Mayor, I am initiating a full investigation with multiple law enforcement agencies to determine exactly what happened.
David Raybin, attorney for The Covenant School shooter's parents, said he could not confirm the legitimacy of the writings.
"We have never seen a manifesto at any time. We're not in a position to authenticate these pieces of paper. We have absolutely not released anything, but we certainly did not release this," Raybin said. "It's inappropriate for me to make any further comment about it."
The Covenant shooter shot and killed six people, including three children, at The Covenant School on March 27. There's been an ongoing legal battle to release the shooter's writings, believed to explain a motive in the shooting.
Some Tennessee lawmakers, Elon Musk, country music stars and more have demanded the writings be released. In early rulings in the legal battle, a chancellor ordered she would be the only person to view the writings.
The Ingram Group, which represents some of The Covenant School families, said they are aware of the claims and have no comment at this time.
This is a developing story. Check back for updates.
Copyright 2023 WSMV. All rights reserved.