Mid-South nurses forced to return bonuses received during pandemic
Published: Oct. 18, 2023 at 6:41 PM CDT
MEMPHIS, Tenn. (WMC) - Two years ago, while Memphis area hospitals were at the height of the COVID-19 pandemic, a long-time nurse with Methodist Le Bonheur Healthcare (MLH) said it was a no-brainer to sign a commitment bonus to continue fighting on the frontlines.
Some requirements to the MLH Commitment Bonuses include:
Remaining in the same employment status for two years

Remaining in an eligible bedside, 24-7, on-call position

Contract nurses must work 500 hours

Part-time nurses must work 900 hours

Full-time nurses must work 1,664 hours
To this nurse's surprise, on October 9, she said she received a letter telling her she needed to pay back the commitment bonus, as did many other nurses who signed the two-year commitment.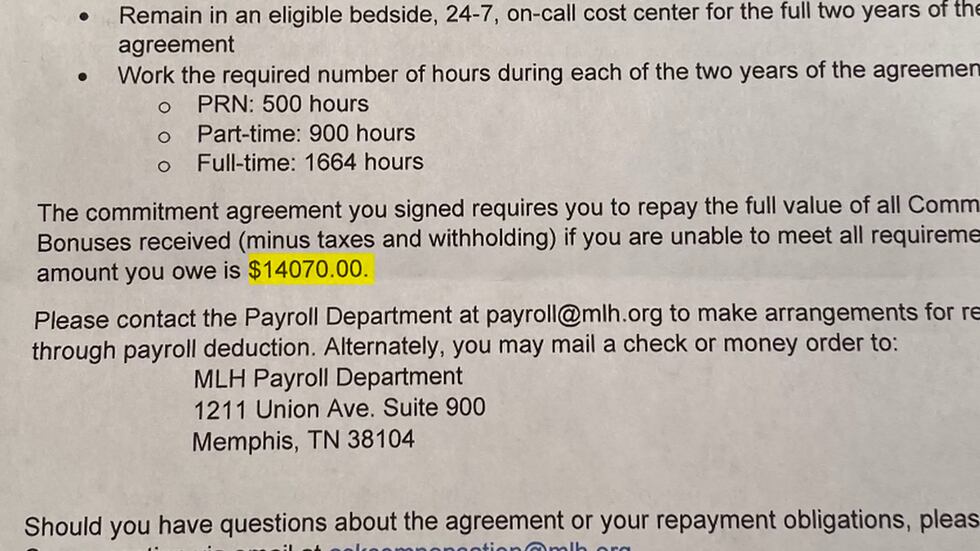 The nurse said she's never called off in the past two years, except PTO, and worked overtime.
Now she said she's being ordered to repay $14,070, minus taxes and withholding.
With no recourse, she said this is a poor way to treat healthcare heroes who serve the sick.
In a statement, Methodist Le Bonheur Healthcare wrote:
Methodist Le Bonheur Healthcare officials say nurses can pay back bonuses through checks or money orders or make arrangements to take it from their paychecks.
Click here to sign up for our newsletter!
Click here to report a spelling or grammar error. Please include the headline.
Copyright 2023 WMC. All rights reserved.