Memphis Mayor-elect weighs in on fight for stadium renovation funds
Published: Oct. 13, 2023 at 10:47 PM CDT
|
Updated: Oct. 14, 2023 at 6:59 AM CDT
MEMPHIS, Tenn. (WMC) - The University of Memphis Tigers faced off against Tulane University Friday night at the Simmons Bank Liberty Stadium. Hundreds of Tiger fans packed the stadium as renovation negotiations continue on how much the university will get of $350 million from the state.
As negotiations continue, Mayor-elect Paul Young is getting acquainted with his new role as he flipped the coin for the Memphis and Tulane game.
"It was cool, my son enjoyed it more than I did," said Young.
What's still a toss-up is how many coins the UofM will get for stadium renovations.
Current Mayor Jim Strickland says he hopes negotiations can wrap up soon so the real work can start.
"We have to be 100% committed to keeping the grizzlies for another generation and try to help the University of Memphis get into a Power 5 conference. And I think with teamwork and effort we'll get there," said Mayor Strickland.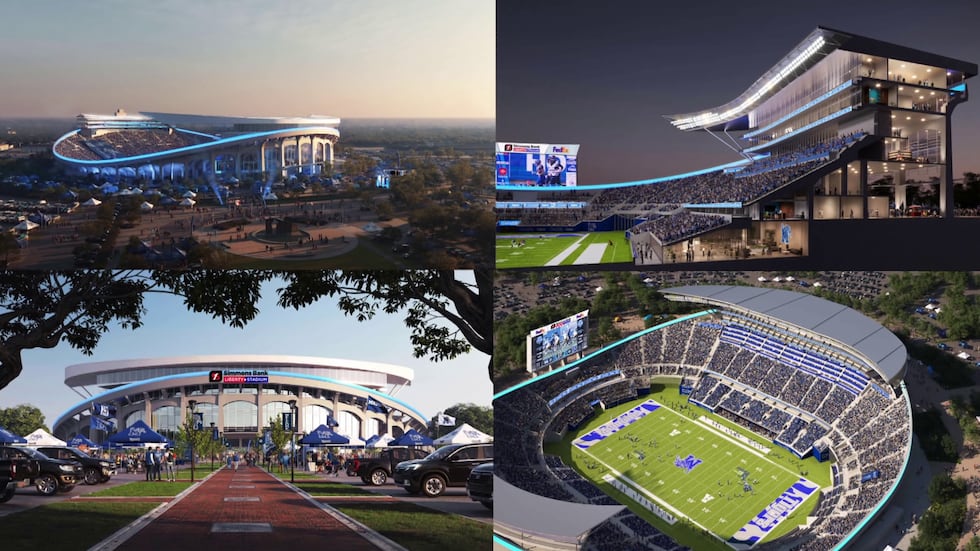 The latest push comes from the University of Memphis Athletic Director Laird Veatch. He told the Daily Memphian that project delays even a month or two could cost the UofM millions of dollars in revenue. Strickland said he is working to get things done before his term ends.
"But if not, we will work with Mayor-elect Young, actually we had a meeting this week and we are going to walk hand in hand through the end of this year, and anything undone at the end of this year will continue on with Mayor Young," said Strickland.
"I know there is a lot of need for the stadium, and we will have discussions about it. I think they want to do something with the boxes and make this a more enjoyable experience. They deserve an amazing stadium, and we will be having those discussions over the next couple of weeks," said Young.
Young says there are two goals that must be completed:
"Getting the University of Memphis in a major conference and getting the Grizzlies to stay here in Memphis," said Young.
Mayor-elect Young and Mayor Strickland plan to have an in-depth meeting to talk about renovations soon.
Click here to sign up for our newsletter!
Click here to report a spelling or grammar error. Please include the headline.
Copyright 2023 WMC. All rights reserved.