Dozens of bills killed on 2nd day of Tennessee special session, but not without controversy
Published: Aug. 22, 2023 at 10:37 PM CDT
NASHVILLE, Tenn. (WMC) - Lawmakers powered through dozens of bills dealing with your safety at the Tennessee Capitol on Tuesday.
The second day of the special legislative session has come to a close, and dozens of bills on gun reform are dead, leaving Democrats like Memphis Representative Antonio Parkinson (D-Memphis) frustrated.
"I actually think it's backfiring," said Rep. Parkinson. "We're going to end up with the worst gun legislation than what we had before we came into the special session."
He's not alone.
A whole room was cleared during the House Civil Justice Subcommittee, including parents from the Covenant School, for clapping and holding up signs.
During Tuesday's Senate Judiciary Committee, Senators tabled 52 bills. Only a handful of others survived, including a bill requiring the state to create a gun lock safety program.
"Whether you live in a small town or a big city, you can have the funds and resources available to start up a program like this if you are a local government and make sure we're supporting safe storage at every chance we can," said Jerri Green, Mayor Lee Harris' Senior Policy Advisor and Memphis City Council Candidate.
Green says they've given out more than 1,000 gun locks since January.
She also says it costs just $7 to buy and mail gun locks. She's been talking with lawmakers about the gun lock program in Shelby County and how successful they've been.
"Unstored guns lead to unintentional shootings of children," said Green. "We unfortunately leading the nation in that here in Shelby County. We are also leading the nation in guns stolen out of cars. And we know that every 12 hours, someone in the state of Tennessee dies by suicide by a firearm. All of these can be prevented or at least slowed down by someone storing your gun."
The second bill that survived requires the TBI to create a human trafficking report.
"Child and human sex trafficking is not a faraway problem," said Senate Majority Leader Jack Johnson (R-Franklin). "It's something that's in our community, it's near where our children are sleeping and playing and going to school."
Another bill requires the agency to update its criminal database when gun purchases are made. House Speaker Cameron Sexton (R-Crossville) says it's missing about 12 years of data.
Meanwhile, a Democrat-sponsored bill passed out of a House committee, making it a Class C felony to coerce a minor to steal a gun and then commit a crime.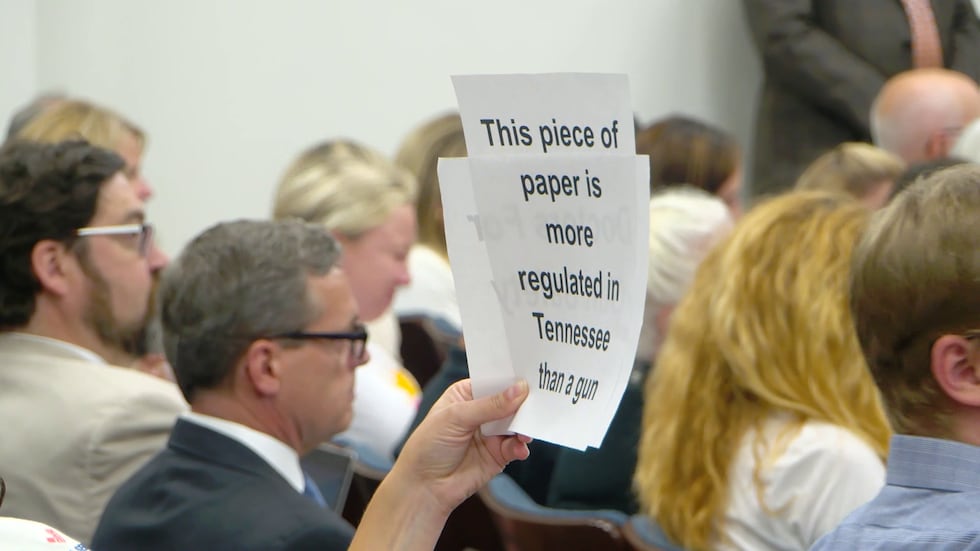 Lawmakers also approved a bill requiring court clerks to list the judicial officer or judge who approved bail within two days, and transfer 16 and 17-year-olds to adult court.
The bill also addresses blended sentencing, meaning juvenile offenders could face a mix of juvenile and adult sentencing.
Democrats and attorneys, in testimony, shared concerns about a lack of rehabilitation services. Gillespie says the legislation only applies to those who are convicted of first-degree murder or other serious crimes.
"I think I think it's important that we have the focus on the fact that these are crimes are being committed now," said Memphis Representative John Gillespie (R-Memphis). "There are victims out there now, and it's great to be able to address 15, 20 years from now, but there's an immediate problem right now in Shelby County."
He says he's willing to discuss better rehab services next year.
Bills involving gun reform are not expected to make it out of committees. This after Dr. Benjamin Mauck, a Mid-South orthopedic surgeon, was honored before Tuesday's session after he was shot and killed by a patient six weeks prior.
The full Senate is in session Wednesday at 2 p.m.
The House is not in session until Thursday.
Click here to sign up for our newsletter!
Click here to report a spelling or grammar error. Please include the headline.
Copyright 2023 WMC. All rights reserved.