Storm causes delays, cancellations on Day 1 of FedEx St. Jude Championship
Published: Aug. 9, 2023 at 11:22 PM CDT
MEMPHIS, Tenn. (WMC) - Heavy rain caused big delays at TPC Southwind Wednesday, impacting events surrounding the FedEx St. Jude Championship.
The day before the first round of competition, and for the second year in a row, rain caused delays on the course, but Memphians didn't let that stop them from enjoying their day seeing some of their favorite players and enjoying some quality time with family.
"We've loved coming to the Pro-AM because he's gotten a chance to see the golfers up close, gotten some autographs and that's something we wouldn't get the opportunity to do tomorrow, or Friday, or Saturday or Sunday with the big stakes for the big paycheck at the end of these playoffs," said FedEx St. Jude Championship Tournament attendee Madison Walker.
Walker and her family, except for her son, little William, are not new to TPC Southwind like Wyhet Cowan. He and his family are taking in the tournament for the first time, and already flushed with some highly sought-after memorabilia.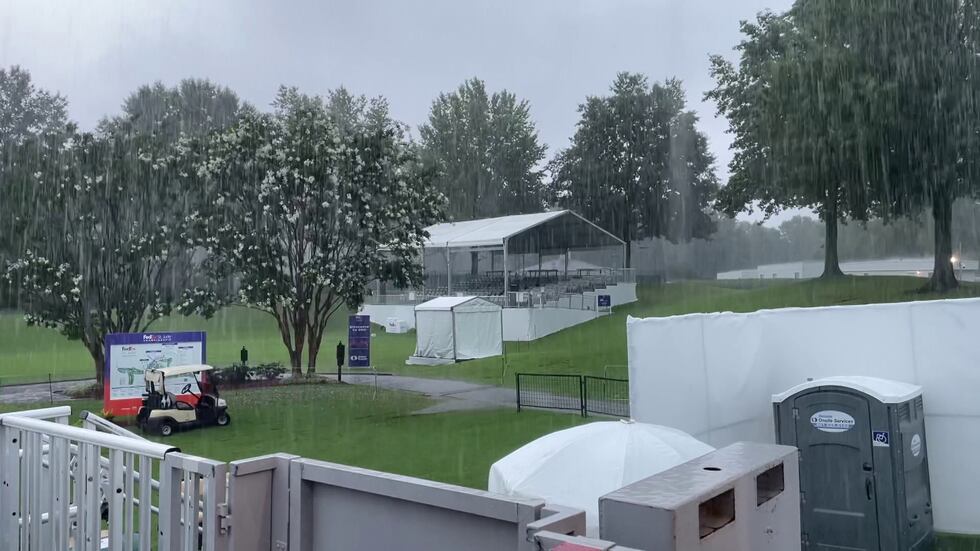 "I got like Scotty Scheffler, Rickie Folwer, Jordan Speith, Wyndham Clark, Tony Finau," said Cowan.
The PGA Tour has a policy in place to determine what action they take during inclement weather, ranging from all clear in green to closing the course and ultimately suspending play for the day in purple.
After Wednesday's early rain cleared, seven-year-old St. Jude patient Olivia Shulov was presented at this year's FedEx Purple Eagle Plane Ceremony.
Olivia is living with neurofibromatosis.
She visits St. Jude every three months to remain seizure-free after a grape-sized tumor was found on her optic nerve in 2021.
"It's been a great honor," said Olivia's dad, Roman Shulov. "Everybody has been wonderful, St. Jude and FedEx. It's just an amazing experience that maybe Olivia doesn't understand yet."
"We are very fortunate in Memphis to have a tournament of this caliber with world-class golfers here just down the street. We've come when it was the FedEx Classic, the World Golf Championship, and now the FedEx Cup Playoffs," said Walker. "We've been here in every iteration."
Gates open at 7 a.m. Thursday at TPC Southwind.
The first round of the competition is set to end at 1 p.m.
Click here to sign up for our newsletter!
Click here to report a spelling or grammar error. Please include the headline.
Copyright 2023 WMC. All rights reserved.