Memphis mayoral candidates talk policing at mayoral forum
Published: Jul. 26, 2023 at 11:00 PM CDT
MEMPHIS, Tenn. (WMC) - Memphis mayoral hopefuls discussed crime, education and the future of Memphis during a mayoral forum Wednesday.
There are 19 people running for Memphis mayor; 10 candidates showed up at Wednesday's forum at Christian Brothers University.
The forum was hosted by the City of Memphis Office of Youth Services, Memphis Youth City Council, and Memphis Ambassadors Program.
Candidates took questions from Memphis youth about what'd they do if elected for the city's top job.
Mayoral candidates on stage included Reggie Hall, State Representative Karen Camper, Shelby County Sheriff Floyd Bonner, MSCS School Board member Michelle McKissack, Downtown Memphis Commission CEO Paul Young, Memphis NAACP President Van Turner, City Councilman Frank Colvett, Brandy Price, James Harvey and businessman JW Gibson.
All answered questions on a wide range of topics. One of the hottest: policing in the Bluff City.
The city currently has more than 1,900 officers, but there's been a push for more cops on the streets.
"It's going to take two to three years, if not four years, to increase that number up to 2,500," said Sheriff Bonner. "We can't wait that long. We have to have officers protecting the people of Memphis."
"The Harvey for Mayor campaign will be able to put together a program that will incentive hiring," said Harvey.
Almost all the candidates agreed on the need to increase the number of boots on the ground.
"We need a new chief of police that... specializes in community policing to where it's not just a police car rolls by every now and then, but you know, the police officers in your neighborhood," said Councilman Colvett.
Some candidates disagree with giving the police department a large chunk of funds in the city's budget.
"The only way to prevent crime is to prevent people from becoming criminals," said Hall. "We have to reinvest in our youth and we have to reinvest in our communities."
They say they'd like to see that money invested in other ways.
"It's not the person that we hate, it's the system," said Price. "It's the system of policing that is a drain on public resources and such."
Some candidates who agreed on the need to increase the number of officers also believe the city has to focus on crime prevention.
"As we're holding individuals accountability, the accountability goes both ways. That's for those that are terrorizing our streets, for the officers that are doing bad, we're going to get them off the streets," said Young. "At the same time, the way we help our police force is to invest in prevention."
Others agreed.
Turner specifically floated the idea of bringing a crime lab to Memphis to test DNA evidence quicker, something that's already been brought to the table by Memphis City Council.
"Our young people don't wake up wanting to shoot, kill, murder, rob; but those are the circumstances we're putting them in," said Turner. "It's not okay. We have to reinvest in our youth, reinvest in our community and make sure that we are reinvesting in their lives."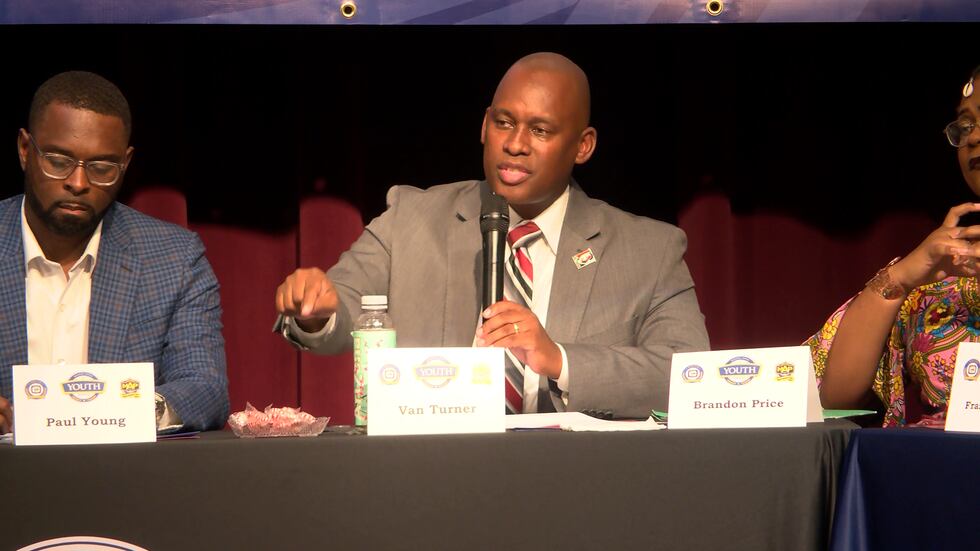 Other candidates put an emphasis on focusing on education when recruiting officers, like McKissack, a MSCS School Board member.
"We have 110,000 students in our Memphis-Shelby County School system, and so some of them you could start a junior PST program, police service technician program, where that's a pathway to put them on to being police officers," she said.
She also agrees the number of officers needs to increase.
Several candidates also mentioned putting an emphasis on community policing around the city.
"We've got to get the community more involved," said Gibson. "This is not an MPD problem, this is a community problem."
Rep. Camper wants a deeper dive into policing in Memphis as a whole.
"I believe we need to have a full review of the entire ecosystem, because the system is working independent of each other," she said.
The number of mayoral candidates could change Thursday, which is the withdrawal deadline.
When asked if they would withdraw if they didn't see a path forward, six of the ten held up signs saying "NO": Hall, Rep. Camper, Sheriff Bonner, McKissack, Colvett, and Gibson.
Click here to sign up for our newsletter!
Click here to report a spelling or grammar error. Please include the headline.
Copyright 2023 WMC. All rights reserved.