Tennessee releases TCAP results: 60% of third graders face retention
"As we continue our work to deliver strong reading skills to benefit every student, we're committed to giving families multiple pathways that will support student promotion and achievement."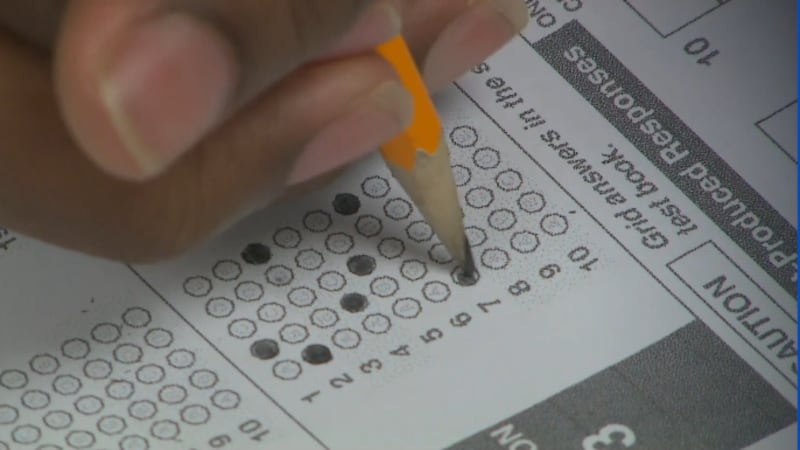 Published: May. 22, 2023 at 2:16 PM CDT
NASHVILLE, Tenn. (WSMV) - The Tennessee Department of Education released statewide average scores from the spring 2023 Tennessee Comprehensive Academic Program (TCAP) tests.
The state DOE says third graders showed significant improvement in English Language Arts (ELA), including:
The largest increase in a single year of third graders whose ELA scores met or exceeded expectations since Tennessee updated its ELA academic standards in 2017.
40% of third grade students scored proficient in ELA – a 4.3 percentage point increase from the previous year.
The largest percentage of third grade students scoring in the top performance category in over a decade, with overall proficiency growing by almost eight percentage points from 2021 decreases impacted by the pandemic.
Here's a look at the statewide averages of third grade ELA performance in the state from 2017-2023:
"The ability to read at grade level determines a student's success in the classroom and beyond, and we're encouraged that our strategic literacy investments have already resulted in historic gains across the state," said Governor Bill Lee. "As we continue our work to deliver strong reading skills to benefit every student, we're committed to giving families multiple pathways that will support student promotion and achievement."
Tennessee school districts release third grade TCAP ELA scores:
Cheatham County Schools:
Approximately 40% of Cheatham County third-grade students are eligible for the ELA retake test.
Clarksville-Montgomery County School System:
Based on the scores from the test in April, of the 40%, a third of students will need to attend summer learning programs and receive free tutoring during 4th grade to be promoted.
Dickson County Schools:
Around 55% of Dickson County third-grade students are eligible for the ELA retake test.
Maury County Public Schools:
Approximately 63% of third graders will be retesting for possible retention or needs for tutoring next school year.
Metro Nashville Public Schools:
Projected 62% of third grade students may be exempt from retention law due to either meeting or exceeding expectations on the ELA portion of TCAP, having a suspected reading disability, English Learner status, or having previously been retained.
Rutherford County Schools
Approximately 70% of current third graders are eligible for fourth-grade promotion. The school district is providing free resources and working directly with parents to ensure all third-graders advance to fourth grade.
Williamson County Schools:
Approximately 72% of WCS third graders scored in the "Exceeded Expectations" or "Meets Expectations" categories of the ELA portion of TCAP.
Wilson County Schools:
Wilson County had 50.2% of third graders scoring at the proficient level on the ELA portion of the TCAP.
This is a developing story, continue to check back for updates.
Tennessee House Democratic Caucus Chair John Ray Clemmons has released the following statement in response to the release of the TCAP scores:
"The negative impact of Gov. Bill Lee and Commissioner Penny Schwinn's disastrous "third grade retention law" is hitting home across Tennessee, turning families' plans and the educational futures of many Tennessee students upside-down. The ill-conceived Republican law that placed undue emphasis on a single standardized test was introduced by Gov. Lee and blindly shepherded through the legislature by the GOP supermajority during a special session with little consideration and even less debate. The passage of this law resulting in thousands of third graders repeating the third grade or attending summer school as a result of a single TCAP ELA score is yet another example of the inherent dangers of one-party rule in our state. Local school officials and parents foresaw the impending disastrous effects of this law and formally asked the state to take corrective action. Gov. Lee and the GOP supermajority outright ignored these pleas and serious concerns by refusing to repeal or substantively amend the law before its enactment.
"Ultimately, the anti-public school crusaders and architects of the false 'failing schools' narrative, Republicans Gov. Bill Lee and Penny Schwinn, consider this law a political 'win,' because they have yet again undermined our state's education system by reducing trust in public schools and placing even more emphasis on standardized tests, at the expense of our students. It is more important than ever to end this GOP supermajority. Nothing less than our state's future is at stake."
To avoid repeating their grade, third graders who fail portions of the Tennessee Comprehensive Assessment Program (TCAP) must attend summer school, retake the test or get a tutor. This is the first year TCAP test scores will determine whether or not third graders will graduate to the fourth grade, as part of Tennessee's new third-grade retention law.
Students will be put into one of four categories based on their TCAP scores:
Exceeds Expectations: Moving on to fourth grade.

Meets Expectations: Moving on to fourth grade.

Approaching Expectations: Choice of whether to go to summer school or be tutored the entire fourth-grade year.

Districts and schools are responsible for providing this. The state has provided Tennessee All Core since the COVID-19 pandemic as a funding source. It provides small-group tutoring and is intensive.

Below Expectations: Students who score below the top two categories have to do both summer school and intensive tutoring.
The Tennessee Department of Education said it's up to each district when they will release scores to parents. You can find the TN DOE's overall timeline below:
Exemptions for the state's new third-grade retention law:
Child has IEP (individual education plan) that provides services for reading

Child has less than two years of English Language (EL) services

Child is currently being evaluated for a disability (IEP) that might include services for reading

Child was previously retained between K-3rd.
Copyright 2023 WSMV. All rights reserved.