Suspects in Young Dolph murder indicted on conspiracy charge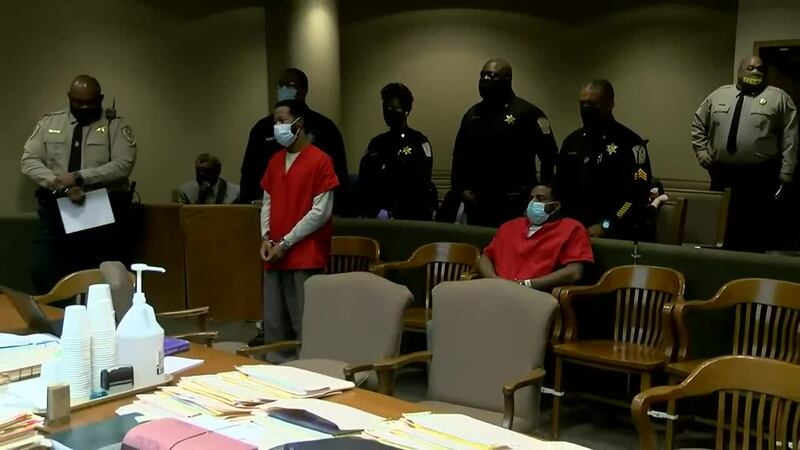 Published: Jan. 20, 2023 at 11:00 AM CST
MEMPHIS, Tenn. (WMC) - Two men accused of killing Memphis rapper Young Dolph were indicted on additional charges Friday.
Both men now face charges of conspiracy in relation to Dolph's murder in 2021.
Justin Johnson and Cornelius Smith were identified as suspects in Dolph's murder back in January 2022.
Young Dolph was shot and killed on November 17, 2021, at Makeda's Homemade Butter Cookies on Airways Boulevard in Memphis.
Smith is facing two murder charges, two theft charges, and more. Johnson is facing those same charges, along with violating the conditions of his release from a sex offender case back in 2015.
Also during Friday's hearing, Johnson's lawyer asked the judge to remove himself from the case based on claims that the judge is not being impartial.
Johnson's new defense attorney, Luke Evans, said he was not informed about an order issued in November by Shelby County Criminal Court Judge Lee Coffee limiting Johnson's ability to communicate with people outside the jail other than Evans.
During the hearing, Coffee said that he issued the order after Johnson was alleged to have made a recording heard outside the jail where Johnson is being held.
The recording was a rap song made by Johnson and distributed on social media.
Coffee's order restricts his visitation privileges and does not allow Johnson to communicate by phone or in writing with anyone outside the jail but his lawyer, including family.
Evans said the recording in question was made on the jail's phone, but he questioned whether Johnson actually made the recording.
Evans said Johnson was not given a court hearing to address the issue and the order is punitive.
"The paramount concern for Mr. Johnson is that he receives a fair trial in front of an impartial judge," Evans told reporters after the hearing. "Our legal system is built on transparency, it's built on process."
Coffee said he issued the order for Johnson's safety and he denied the accusations that he's not being impartial. Coffee said he has not made any judgments about Johnson's guilt or innocence,
The judge set a Feb. 2 hearing on the recusal motion.
Click here to sign up for our newsletter!
Click here to report a spelling or grammar error. Please include the headline.
Copyright 2023 WMC. All rights reserved.