Breakdown: NOAA 2022 Disaster Report - Why the numbers are alarming
Published: Jan. 15, 2023 at 7:11 AM CST
|
Updated: Jan. 15, 2023 at 7:14 AM CST
MEMPHIS, Tenn. (WMC) - The National Oceanic and Atmospheric Administration (NOAA) has released its annual disaster report, revealing that 18 weather disasters affected the United States in 2022.
These disasters ranged from hurricanes and severe weather outbreaks to floods and droughts, and even included a winter storm and Arctic blast that consumed much of the nation in December.
The 18 disasters experienced in 2022 each cost at least 1 billion dollars. That number puts 2022 into a three-way tie with 2017 and 2011 for the third-highest number of billion-dollar disasters in a calendar year, behind the 22 events in 2020 and the 20 events in 2021. It was another year with a high diversity of destructive disasters:
1 winter storm/cold wave event (across the central and eastern U.S.).

1 wildfire event (wildfires across the western U.S. including Alaska).

1 drought and heat wave event (across the western and central U.S.).

1 flooding event (in Missouri and Kentucky).

2 tornado outbreaks (across the southern and southeastern U.S.).

3 tropical cyclones (Fiona, Ian and Nicole).

9 severe weather/hail events (across many parts of the country, including a derecho in the central U.S).
They all resulted in significant economic effects on the areas impacted.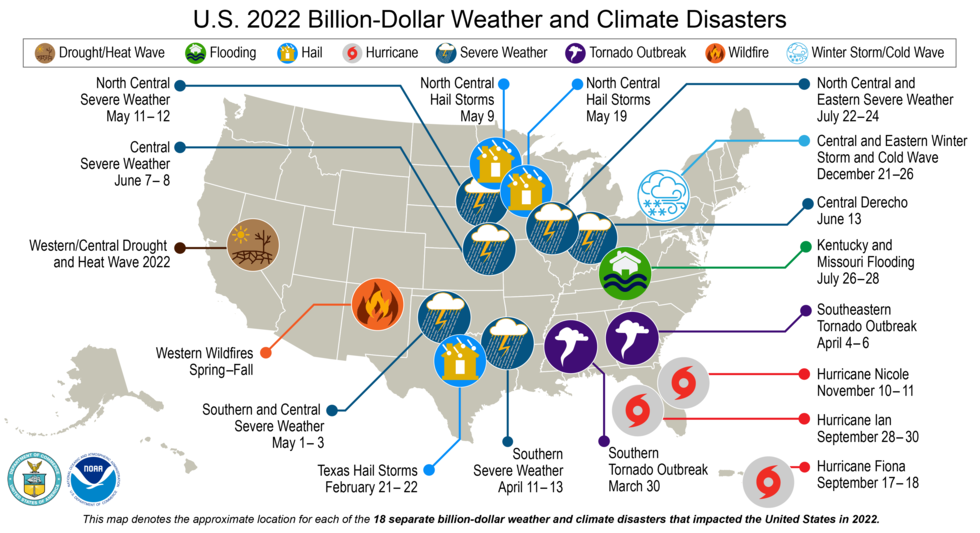 Here's a closer look at some of the most important numbers from the report.
18: The total number of billion-dollar disasters to affect the U.S. in 2022. It's the third-most of any year since 1980.
474: The number of lives claimed by 2022′s billion-dollar disasters.
11: The number of severe weather events that cost at least $1 billion in 2022, the most of any category. This included 6 severe weather outbreaks, 3 damaging hail events and 2 tornado outbreaks.
50: All 50 states have been impacted by at least one billion-dollar disaster since 1980.
341: The total number of billion-dollar disasters to strike the U.S. since 1980 – an average of 7.9 per year.
The price tags:
$165 billion: The total price tag of those 18 weather and climate disasters, according to NOAA's National Centers for Environmental Information. This also ranks third-highest of any year since 1980.
$112.9 billion: The estimated cost of Hurricane Ian. It's believed to be the costliest weather or climate disaster worldwide in 2022, according to the World Economic Forum.
$936 billion: Total price tag of the 128 billion-dollar disasters to strike the U.S. since 2010.
$2.48 trillion: The total price tag of those 341 disasters.

The U.S. has sustained 341 weather and climate disasters since 1980 where overall damages/costs reached or exceeded $1 billion (including CPI adjustment to 2022). The total cost of these 341 events exceeds $2.475 trillion.
All figures are CPI-adjusted (Consumer Price Index). NOAA's records on billion-dollar disasters date back to 1980.
The number and cost of weather and climate disasters are increasing in the United States due to a combination of increased exposure (i.e., more assets at risk), vulnerability (i.e., how much damage a hazard of given intensity—wind speed, or flood depth, for example—causes at a location), and the fact that climate change is increasing the frequency of some types of extremes that lead to billion-dollar disasters.
Click here to sign up for our newsletter!
Click here to report a spelling or grammar error. Please include the headline.
Copyright 2023 WMC. All rights reserved.