Tracking a cold front that will bring heavy rainfall & storms this evening
Published: Dec. 11, 2022 at 8:36 PM CST
|
Updated: Dec. 13, 2022 at 11:13 AM CST
MEMPHIS, Tenn. (WMC) -A strong cold front will move into the Mid-South by Tuesday afternoon and evening. Temperatures will be warm out ahead of the front, mid 60s which could make conditions ripe for thunderstorms. Winds will pick up this afternoon with some gusts up to 30 mph. The main threats this evening will be heavy rainfall and the potential for a few gusts with storms along the front. Some areas could pick up 1 to over 2 inches of rain in a short amount of time, which could lead to some flooding.
TIMING: The line will start pushing into Arkansas around 5 pm.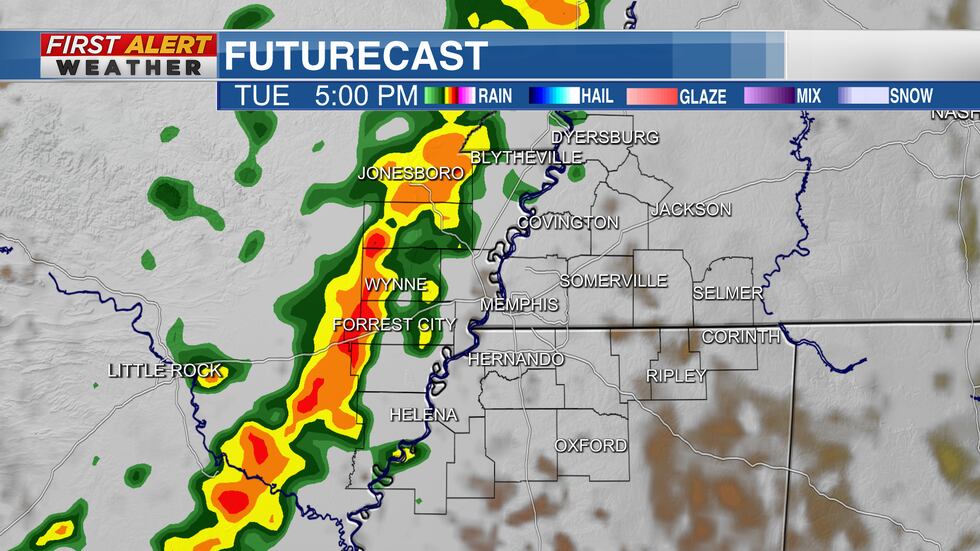 The main line of rain and storms will start in Memphis after 6 pm and continue through 10 pm before moving east. The heaviest rain will taper off for the entire Mid-South before midnight but there likely will be some periods of rain through Wednesday afternoon.
THREATS: The primary concern with this system will be heavy rainfall which could lead to some localized flooding. Rainfall amounts could be between 1 to2″ for most with a few higher amounts in north Mississippi.
There is a secondary threat of a few storms that could reach severe limits with the threats being strong wind, lightning and small hail. The tornado threat is low. Majority of the Mid-South is under a low end risk, category 1 out of 5. Overall the severe threat is low for our area but we will continue to monitor.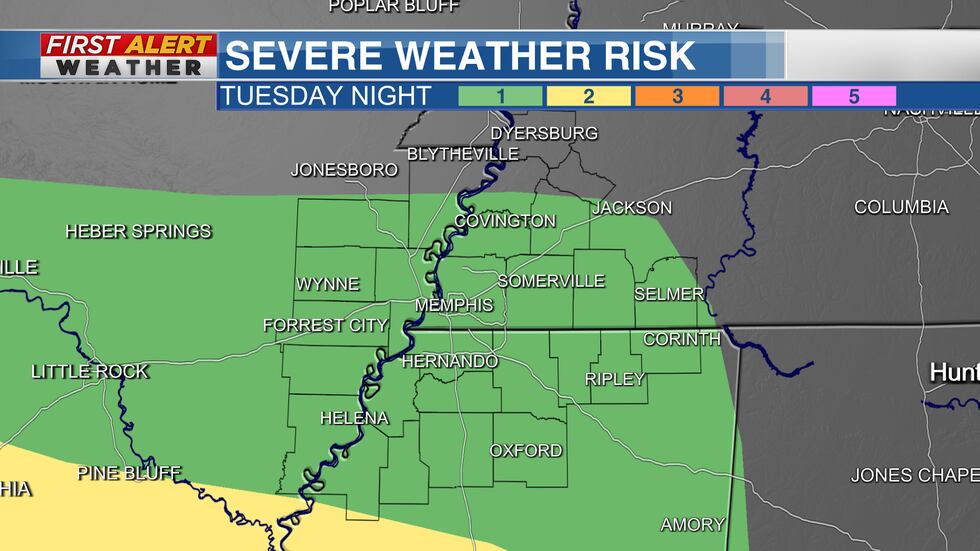 Be sure to stay with the First Alert Weather Team for the latest as we will update you on any changes in timing and threats. Download the First Alert Weather App to stay up to date with the latest information on Tuesday's weather system.
Click here to sign up for our newsletter!
Copyright 2022 WMC. All rights reserved.