Engineering expert explains I-40 bridge crack
Updated: May. 13, 2021 at 4:45 PM CDT
MEMPHIS, Tenn. (WMC) - A civil engineer and professor, who spent two years studying the Hernando-Desoto Bridge and installing sensors to track any abnormalities, explains the crack in the bridge.
He says based on his research, motorists might have been driving over this crack for days or maybe even weeks.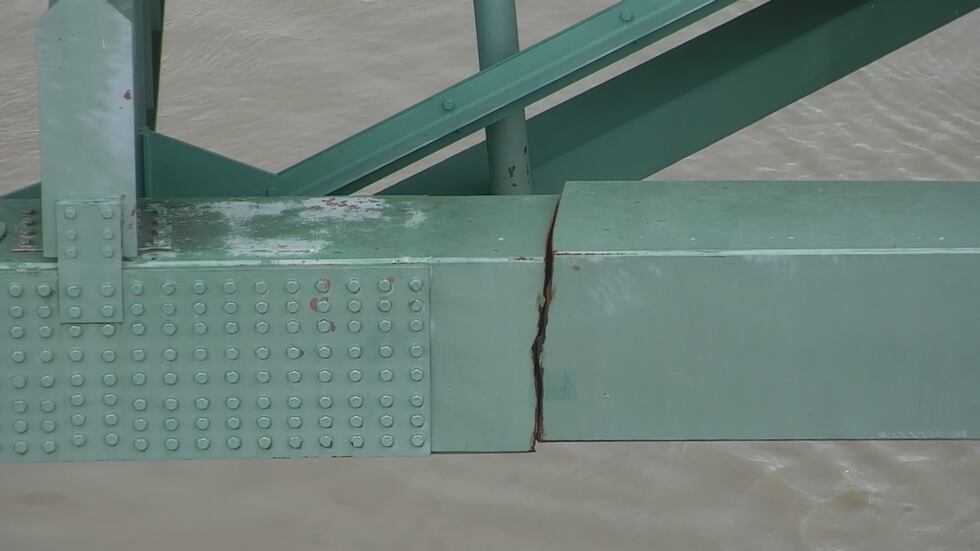 Traffic is non-existent on the famed "M" bridge. The U.S. Coast Guard reported 16 vessels and 229 barges at a standstill, all due to this crack in the bridge's support beam discovered by inspectors Tuesday.
"You know, usually I explain it to my students, imagine that's the truss and you have trucks driving on it and keeps on bending like this," said Adel Abdelnaby, associate professor of engineering at University of Memphis.
Abdelnaby studies and teaches something called bridge fatigue, which happens when tiny cracks in the metal form over time.
"You are subjecting steel to many cycles of stresses, millions of cycles. Every truck that passes by, that's one cycle. So, imagine how many cycles have been there since the 1970s," Abdelnaby explained.
The Hernando-Desoto bridge opened in 1973. Abdelnaby says bridges built during that era were not designed to handle such a high volume of traffic. Today 41,000 vehicles cross this bridge every day. Thirty percent are commercial trucks.
Those tiny microscopic cracks are bound to grow. The Tennessee Department of Transportation (TDOT) says the fracture was discovered on day one of a routine inspection and that it may have only been there for a week before being spotted.
Abdelnaby thinks it may have been there longer, possibly a few weeks.
"So, this crack is very developed. When I look at the crack, the crack doesn't look to me like it's new. The crack looks like the edges of the crack are worn. You see they are round, they are not sharp edges," said Abdelnaby.
TDOT says they don't have a specific timeline for the bridge to reopen.
Abdelnaby says if the damage is confined to just this one crack, maybe a couple of weeks, but if it's more extensive, they may have to replace the entire bridge. Replacing the bridge could take up to a year.
Copyright 2021 WMC. All rights reserved.