Tennessee Dept. of Heath updates COVID-19 vaccination plan
Updated: Dec. 30, 2020 at 11:46 AM CST
MEMPHIS, Tenn. (WMC) - The Tennessee Department of Health has updated the COVID-19 vaccination plan. The updated plan will focus on frontline healthcare workers, protecting the most vulnerable Tennesseans first, and preserving the workforce in the highest risk areas.
Here's a chart breaking down the Tennessee COVID-19 vaccination plan -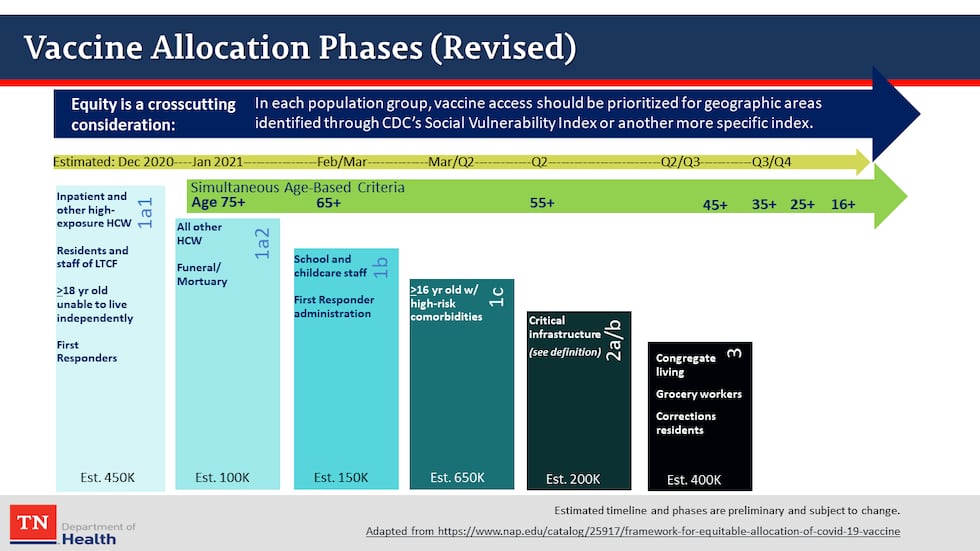 The state health department added that this new plan includes three allocation phases, based on risk and informed by the National Academies of Sciences, Engineering and Medicine's Framework for Equitable Allocation of COVID-19 Vaccine.
Tennessee is currently in Phase 1a, which has been subdivided into two phases.
Individuals qualifying for vaccination under Phases 1a1 and 1a2 may be offered the vaccine by their employer, through their local health department, or through a partnering hospital.
Copyright 2020 WMC. All rights reserved.