Tennessee reports 53 more deaths, 4,404 new cases of COVID-19
SCHD: 88% of COVID-19 deaths in Shelby Co. are ages 55 and up
Published: Nov. 26, 2020 at 2:27 PM CST
|
Updated: Nov. 26, 2020 at 2:28 PM CST
MEMPHIS, Tenn. (WMC) - Tennessee's COVID-19 death toll increased by 53 Thursday with another 4,404 cases reported.
So far, 4,519 Tennesseans have died from the virus and 352,376 have tested positive. Nearly 313,000 cases are now considered inactive, giving Tennessee 34,972 active cases.
Nearly 2,200 people are currently hospitalized with complications from the virus with nearly 12,000 needing hospitalization at some point during the pandemic.
According to the Tennessee Department of Health, the average age of cases in Tennessee is 40. The highest percentage of deaths (36%) is in people 81 and older.
TDH data shows 3,854 people 61 or older have died in Tennessee. Another 664 deaths were people 60 or younger. Four people 10 or younger and two people 11-20 have died. Eighty-six people 21-40 have died.
The Shelby County Health Department has identified 120 new coronavirus cases and seven more deaths. Since the beginning of the pandemic, 46,330 COVID-19 cases and 652 deaths have been reported.
There are currently 3,490 active coronavirus cases and 8,055 individuals in quarantine in Shelby County.
Starting November 23, a new health directive issued by the Shelby County Health Department began. The directive requires restaurants to hold limited capacity and close earlier.
Here's what you should know about the health directive
Any establishment that serves food and/or alcoholic beverages is required to:

Limit occupancy to 50%

Close at 10:00 pm

Require patrons to wear masks at all times except when actually eating a bite of food or drinking a beverage

Limit groups dining together to 6 people (but no more than 4 adults)

Schools are strongly encouraged to suspend all school-related close-contact sports at this time.

Gyms remain open at this time. All employees and patrons are required to wear masks or facial coverings at all times while in the facility, except when in the swimming pool or shower.

Shelby County Government expects to be able to provide special financial supports of at least $5,000 for any business that faces closures of at least 30 days that is substantially related to Health Directive No. 15. More details will be forthcoming.
Cases are continually increasing day to day in Shelby County and around the nation. Health officials are becoming concerned with hospitals' capacity. On November 23, the health department's healthcare resource tracking system shows acute care utilization at 90 percent and ICU at 92 percent.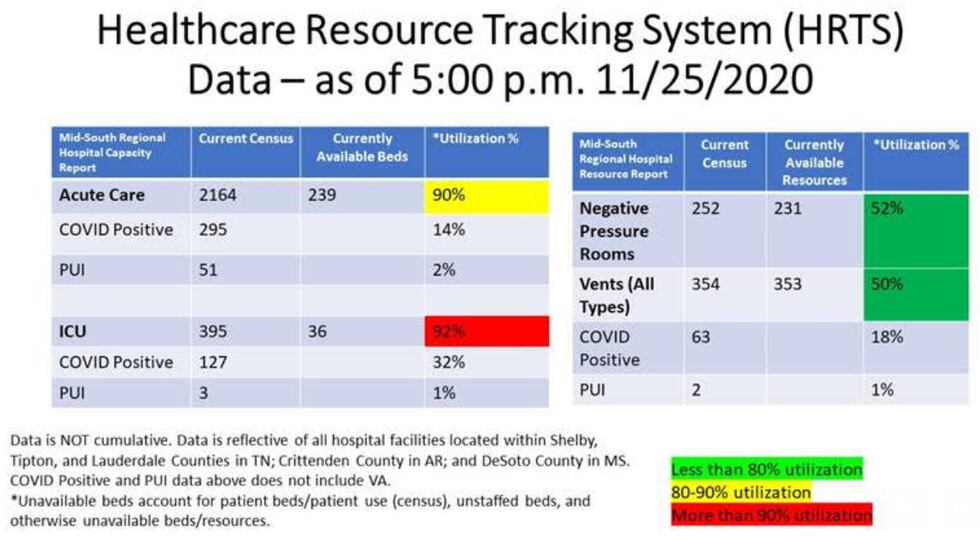 As hospitalizations increase, the most recent data available from the health department showed an 11.1% weekly test positivity rate. The positivity rate has increased each week since the end of September. The SCHD said the testing positivity rate is the percentage of all tests conducted that are found to be positive.
The Shelby County Health Department released a map showing the zip codes with the highest COVID-19 case rate per 100,000 population. So far, zip codes 38103 and 38104 have the highest rate.
The health department said individuals ages 25 to 34 years old have the highest coronavirus case count compared to other ages. At this time, about 21 percent of the total COVID-19 cases are people in that age group. About 61 percent of the cases and under age 44.
About 19,000 of the coronavirus cases in Shelby County are among African Americans, which is about 55 percent of the overall total. Sixty-four percent of the total COVID-19 deaths have been African-American.
The SCHD said 88.3 percent of COVID-19 deaths in Shelby County are ages 55 and above.
Eighty-one percent of individuals that died from coronavirus in Shelby County also had a cardiac condition.
The health department is also investigating COVID-19 clusters where two or more cases have been identified at long-term care facilities in Shelby County. There are 21 facilities currently under investigation -- some of them experiencing more than one cluster since the beginning of the pandemic.
Both residents and staff have been infected.
Copyright 2020 WMC. All rights reserved.