Investigation underway after tree in honor of Elaine Massacre victims is cut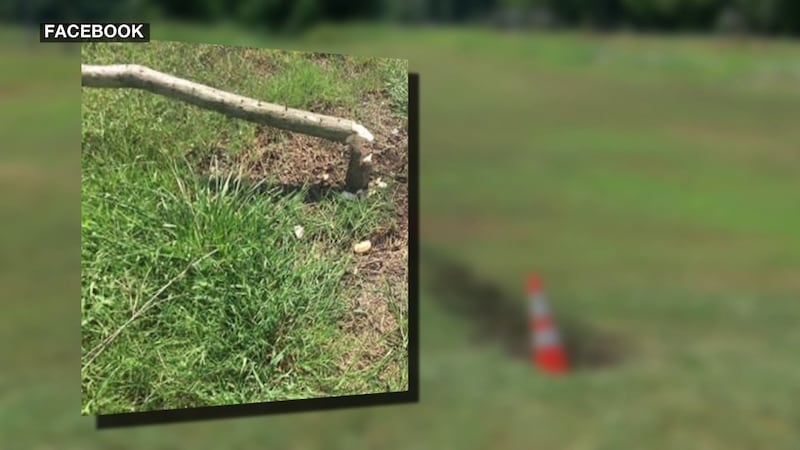 Updated: Aug. 23, 2019 at 5:50 PM CDT
ELAINE, Ark. (WMC) - When William Quiney III saw pictures of a willow tree cut he felt angry and disappointed.
"It's just ignorance. Someone who's just ignorant of history came and chopped it down," said Quiney, who's lived in Elaine, Arkansas, for years.
Earlier this week, a willow tree planted on the Delta Heritage Trail State Park in Elaine, Arkansas, was vandalized. Investigators think it happened sometime Tuesday night or early Wednesday morning.
The public information coordinator to the state park's department says the tree was chopped down and a memorial tag stolen.
"It was history and it's part of history, but then apparently someone didn't feel the same way as we felt about it," said Quiney.
The tree, which was planted in April of this year, was in remembrance of the hundreds of victims of the Elaine Massacre of 1919.
Local police and the state park's department is investigating it as vandalism.
"Hacking down a tree is not graffiti. Graffiti is vandalism, ok? Hacking down a tree is a hateful act," said Arkansas judge and pastor Wendell Griffen.
Griffen says this should warrant a hate crime investigation. He says residents have voiced their concerns to him.
"They see us as having no value. Our feelings don't matter. Our pain doesn't matter. Our memories don't matter. The folks that were massacred don't matter and our families don't matter," said Griffen.
Folks with the Elaine Legacy Center say they're planning on planting another tree and replacing the memorial tag in the near future.
Investigators say they've focused on the investigation and will address the steps moving forward at a later time
Copyright 2019 WMC. All rights reserved.