'Don't come near me:' Blytheville police release details of officer-involved shooting investigation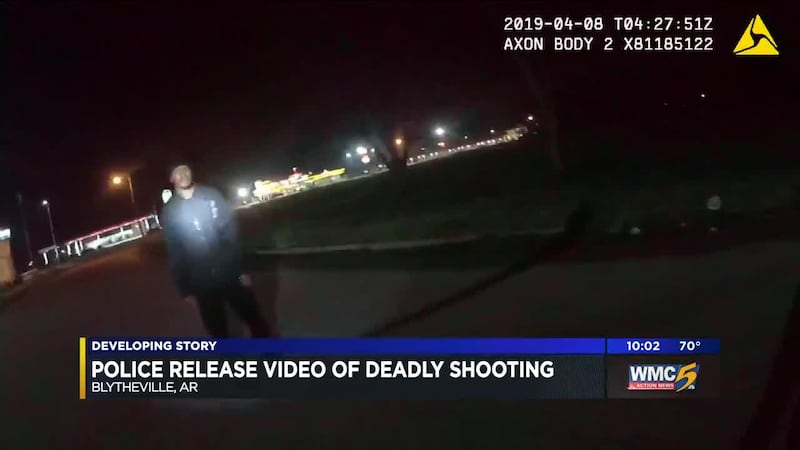 Updated: May. 2, 2019 at 1:59 PM CDT
BLYTHEVILLE, AR (WMC) - Police in Blytheville shared some of the findings of the investigation into a deadly police shooting as well as some of the evidence that includes the police officers body camera video that shows the shooting.
On April 7, a Blytheville office responded to a disturbance. According to Arkansas State Police, 35-year-old Marzues Scott attacked the officer, who then shot Scott.
That officer has been identified as Leann Norman.
It started at the Dodge Store around 11 p.m. where surveillance video shows Scott inside the store walking up behind an employee and beating the employee.
That employee lost a tooth and had head injuries.
Police say Scott remained silent as he walked out of the store and across the street to Deerfield Inn where he was staying.
By that point, police had been called and Officer Norman, activated her body camera and started yelling commands to Scott.
"You just assaulted somebody at Dodge Store. Go to my car. Go to my car. Don't get near me. Go to my car now. Go to my car. I need some back up. Go to the car. Get back don't come near me. Get back. Shots fired Shots fired Shots fired," she can be heard saying in the video.
Scott was shot twice - once in the torso and it is not clear where the other shot was.
After the shooting, officers gave CPR to Scott who later died at the hospital.
Police say Scott never said a word to officers.
Scott is a resident of Blythville but it is not clear why he had been staying at the Deerfield Inn or why he attacked the store employee.
Prosecutors say they are not going to prosecute Officer Norman, and Blythville police do not expect any disciplinary action.
Chief Thompson said he wanted to release the video because he wanted residents to know officers activated the body cameras the way they were supposed to.
"I think it's important for the citizens to know that they did this, and to be able to understand the interactions that took place."
Investigators are waiting on the results of the autopsy to determine exactly where both shots hit the suspect.
They are also waiting on the toxicology report.
Copyright 2019 WMC. All rights reserved.