2 Memphis intersections ranked among most dangerous in country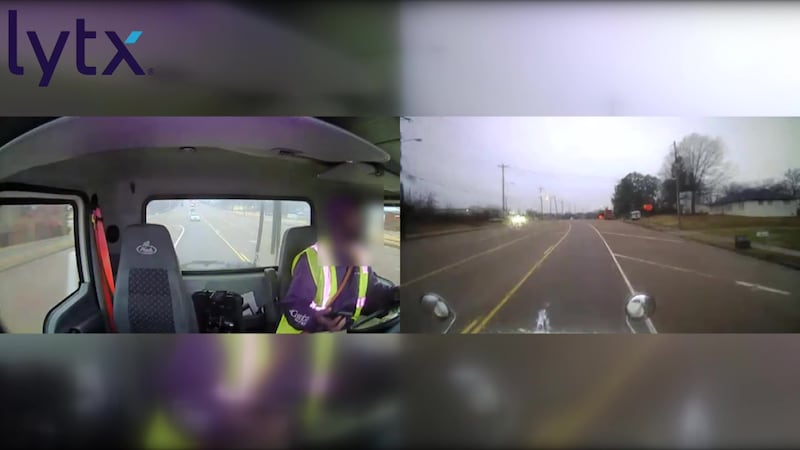 Updated: Mar. 7, 2019 at 9:42 PM CST
MEMPHIS, TN (WMC) - A new study holding commercial drivers accountable found Memphis has some of the worst intersections for phone use while driving in the country, and it's all caught on video.
Memphians know that Lamar Avenue has a lot of truck traffic, but one company says too many commercial drivers on Lamar are using their phones as they drive.
Dash cam video shows a distracted truck driver runs a red light and slams into unsuspecting traffic.
The video was recorded by the global safety analytics company LYTX, who provides dash camera technology.
"The entire goal is to make the roads safer," said LYTX Data Analyst Kyle Warlick.
LYTX's technology both holds drivers accountable and helps them get exonerated when a crash isn't their fault.
The cameras start rolling when a vehicle brakes too hard or in this case, drifts out of its lane.
"Within the company they have coaches, and the coaches review these clips with the drivers and say here's what you did wrong and here's the behaviors that you displayed that were dangerous," Warlick said.
Using data from more than 500,000 vehicles, a LYTX study found two Memphis intersections are among the top five worst in the country for phone use while driving.
Number four on the list is Lamar and Holmes, an area with a lot of traffic.
The number one worst intersection according to Lytx is the area of South Lauderdale and Mallory, right next to a FedEx Ground Hub.
"This a dangerous intersection," said Gilbert Rolack, who lives nearby Lauderdale and Mallory.
Rolack worked at the FedEx Ground hub for years. He says truck drivers texting around there is nothing new.
"I been seeing that for years," Rolack said.
LYTX says they recorded more than 200 instances of phone use at the Lauderdale and Lamar locations, and they want Memphians armed with this knowledge to drive safe near them.
"We want you to be vigilant on these roads because it's that unseen risk," Warlick said. "You may drive down these roads every day and not know how risky they are."
Federal laws say truck drivers shouldn't be using their phones at all behind the wheel, and they are required to use hands free devices.
Overall, the study found Memphis is the eighth worst city for drivers using their phones in their vehicles.
Tennessee is also at the top of the list when it comes to deadly crashes caused by distracted driving.
Copyright 2019 WMC. All rights reserved.